Basic information
IRIS – Miniarboretum and meditation garden Kácov
Motto: "Live, share, learn, be…"
Localization
The Arboretum is located in the land of the village Kácov near the main road No. 125 Vlašim-Kacov. The territory is located in the fields and allows you to access the local communication.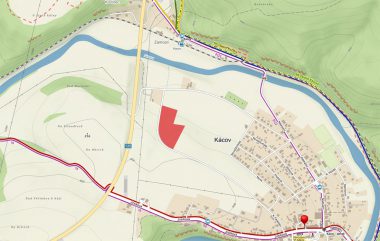 Kácov
GPS: 49.7826256N, 15.0177111E
Contact person
Ing. Šárka Michálková
285 09 Kácov 16
mobile: +420 731 516 046
sarka.zahr@volny.cz
arboretum.iris@volny.cz
Opening hours
Arboretum is freely accessible throughout the year.
Entry
Admission to the Arboretum is free.
Vision
loose continuity with the surrounding landscape
permeability for people and animals
increase bio-diversity in the landscape
grouping each elements and plants into thematic units, peace, well-being and harmony
description of the species, where appropriate, the location of the quotes, instead of for the updated texts
meditation retreats, experiential practice-the smell, the touch, color, shape
support spirituality efforts of lower demands on maintenance
the use of natural materials
the use of symbolic elements
The Arboretum is focused on didactic, scientific, sbírkovou, popular educational activity.
Natural conditions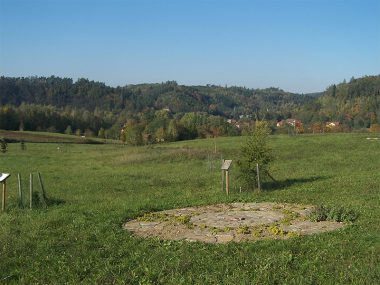 The Arboretum is located in the hill-country of kácovské. In terms of climatic conditions of the territory belongs to slightly warm the climate of the area. The Arboretum is located in the north-western slope exposure in 330-350 m n. m. With regard to the slope and exposure are particularly apparent in the area of different vláhové and soil conditions (the upper part of the drier conditions, on the contrary, the lower part of the slope of the wetter). (The territory is made up of svahovinami and river terraces of the Sázava River). This also corresponds to the geological composition of the bedrock, which consists of Rocky to loamy-Rocky sediment, pararula and occasionally sand, gravel. The soil consists of kambizem (svahoviny rul). Position on the slope offers a beautiful view of the countryside. The impressive surrounding landmarks are the hill above the river-rock Čertovka, Hill with a local name of "Kopulka" and Vlachov. Looking North across the river we see the historical building of the kácovského railway station.